PROJECTS - 2018
A Garden: The Birds Arrive
A Garden: The Birds Arrive is an earthwork and experimental garden at the Albuquerque Museum located in the sculpture garden right off Mountain Rd NW. This project was conceived, designed, and created by Land Arts of the American West and 7th regen, in conjunction with SeedBroadcast's exhibition "Seed: Climate Change Resilience" coming in 2019. Land Arts of the American West artists designed concentric planting beds radiating from a central existing pine tree and seeded these with Middle Eastern and SW Asian heritage grains einkorn, spelt, Sonoran Wheat, and Cache Valley Rye as a winter cover crop. In the summer, local indigenous amaranth will succeed the grains. As an experiment, the garden employs two varying methods for production: dryland farming waffle gardens and drip irrigation beds. It also accommodates the shadow line of the building. A light installation will cast shadows of the growing plants on the building wall at night. The garden aims to be an area for artistic installation and future community engagement. 7th regen has created a steel portal of three half arches reminiscent of sheafs of grain and a mud stenciled phrase, "I wait for the birds to tell me when grain is ready," spoken by Tiana Baca of the Desert Oasis Teaching Garden. The name of the garden/installation - "The Birds Arrive" - was adapted from Baca's quote and the acronym TBA (to be announced). This project is about possibility, variability, and engagement.
September 1, 2018 – September 29, 2019
Albuquerque Museum
2000 Mountain Road NW
Albuquerque, NM
Partners and collaborators for this project include:
Land Arts of the American West
Rocky Mountain Seed Alliance
Sarah Montgomery of Garden's Edge
Christine Mackey
Tiana Baca of Desert Oasis Teaching Garden
Albuquerque Museum
7th regen
Art & Ecology Area at UNM
SeedBroadcast
Sun, Wind, Rain
Soil Microbes, Seeds, and Birds

Site Investigation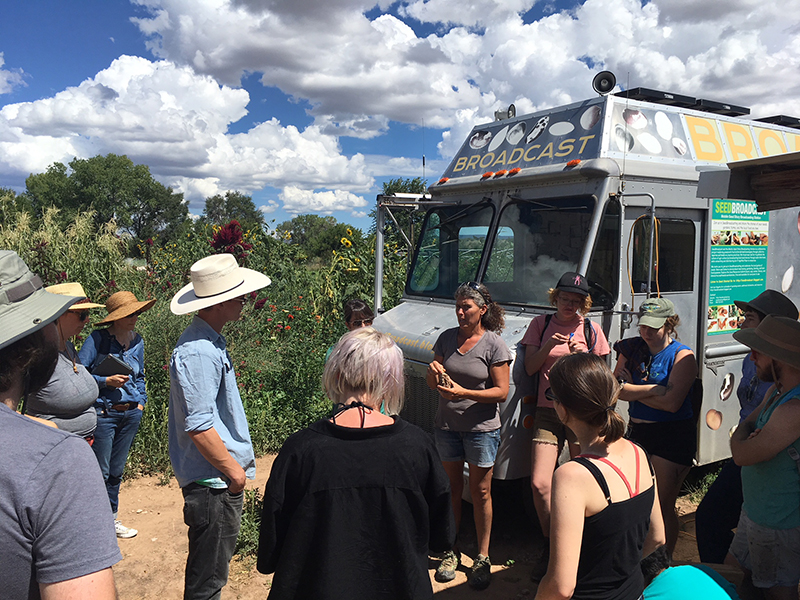 LAAW students learn about different agricultural methods at Professor Hart-Mann's research farm in Anton Chico, New Mexico.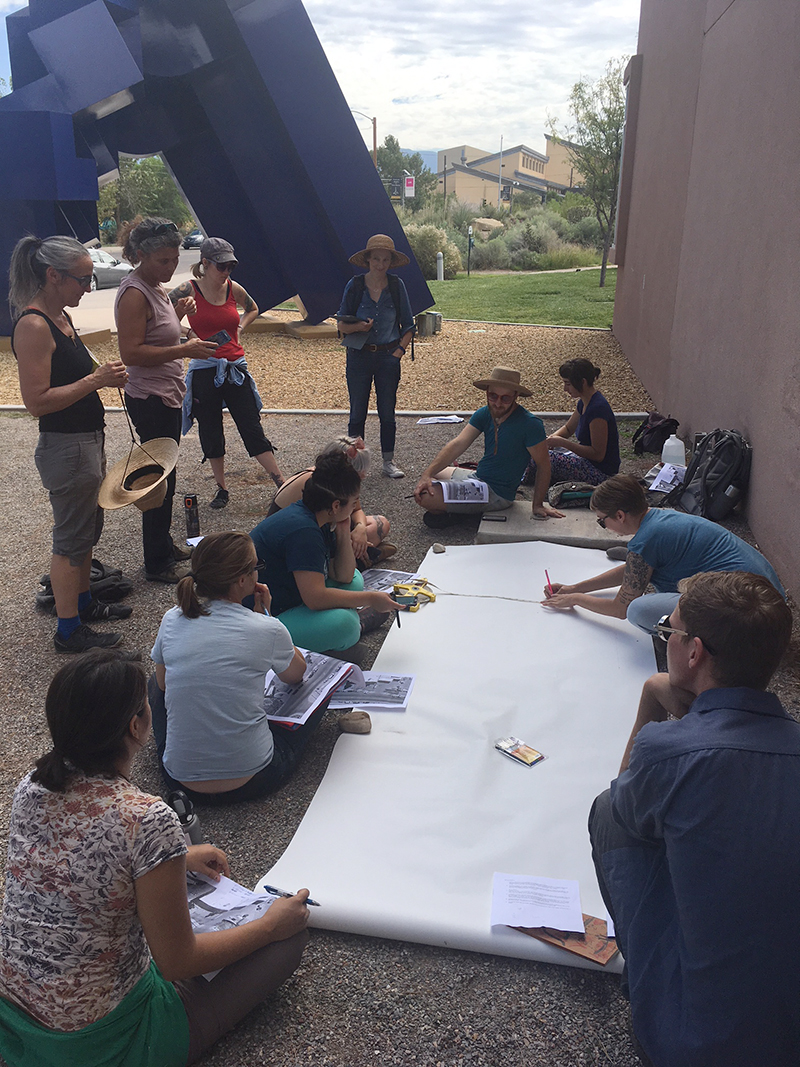 Joined by 7th regen students and guest artist Christine Mackey, LAAW conducts a site analysis exercise led by A+E Professor Catherine Harris.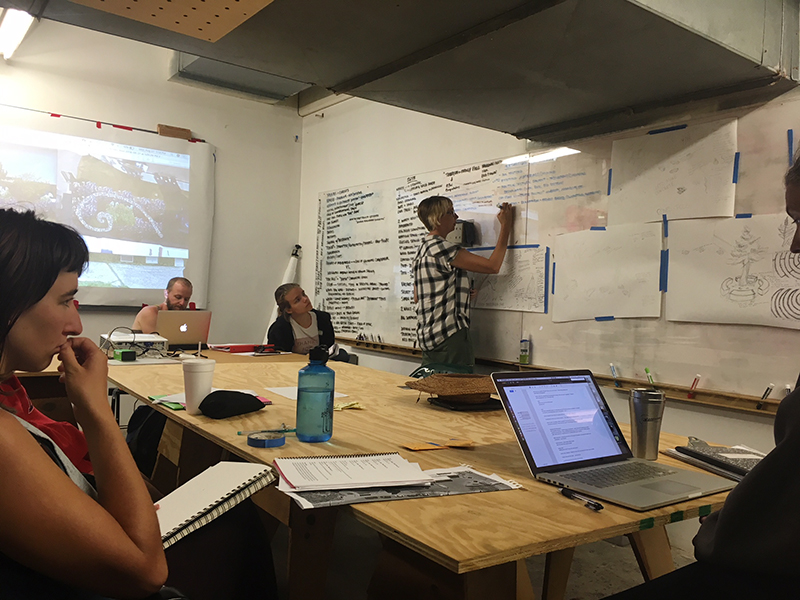 Back in the Land Art's studio, students present concepts for the collaborative garden project.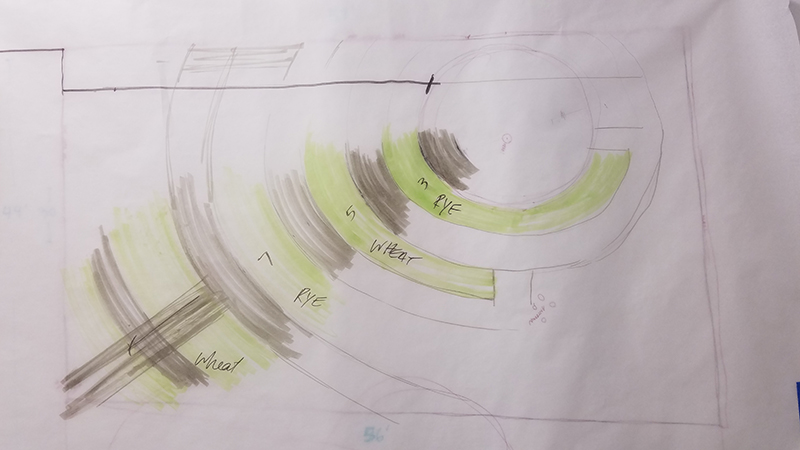 A design takes shape, emphasizing form and the variety of plantings.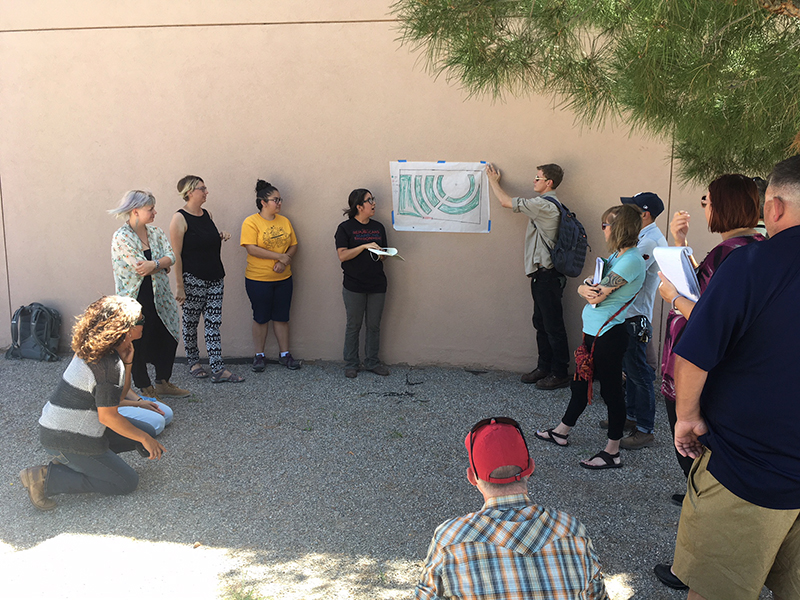 LAAW students, 7th regen present garden concept to curators and administrators of Albuquerque Museum.
Implementation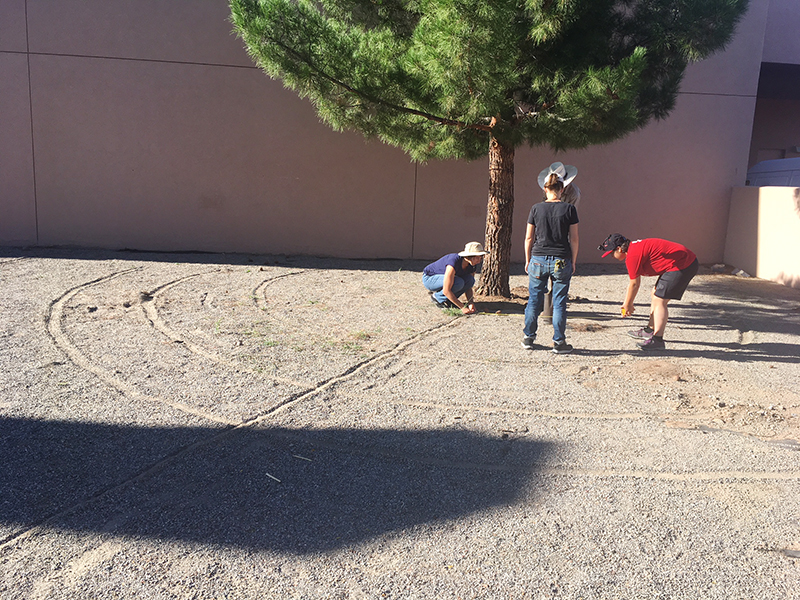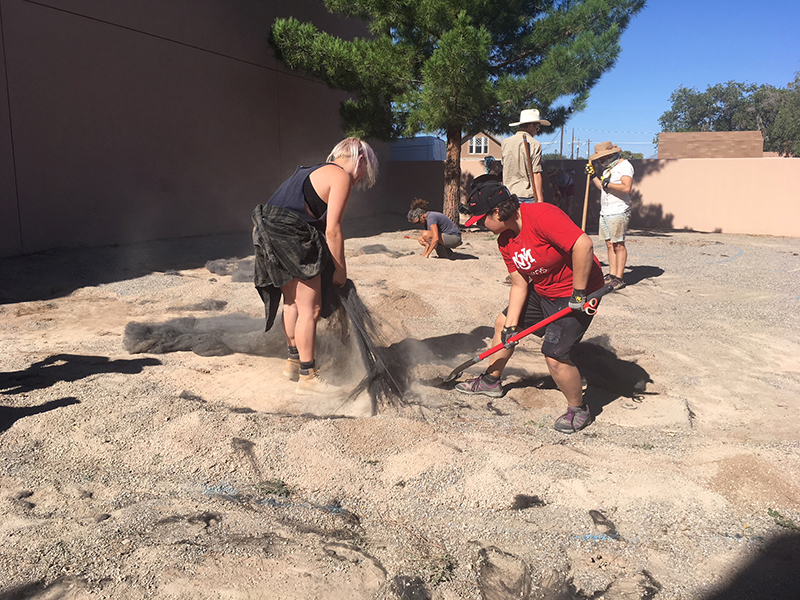 Work begins: Layout of site plan and removal of pre-existing weed barrier.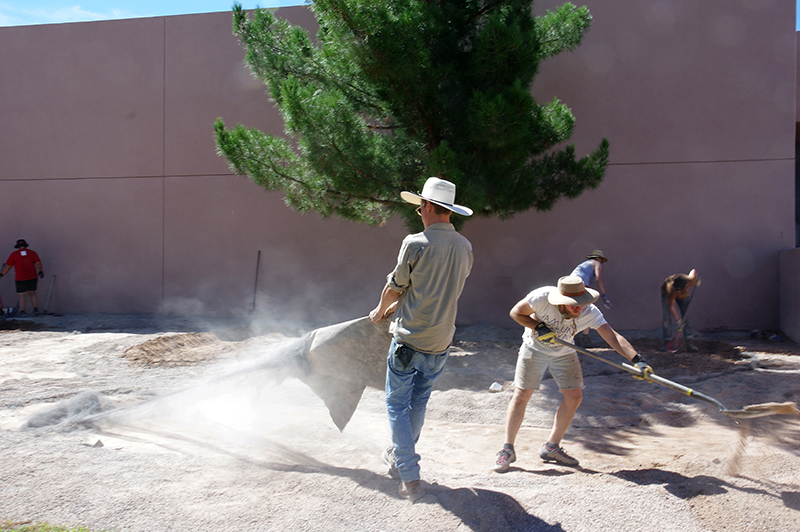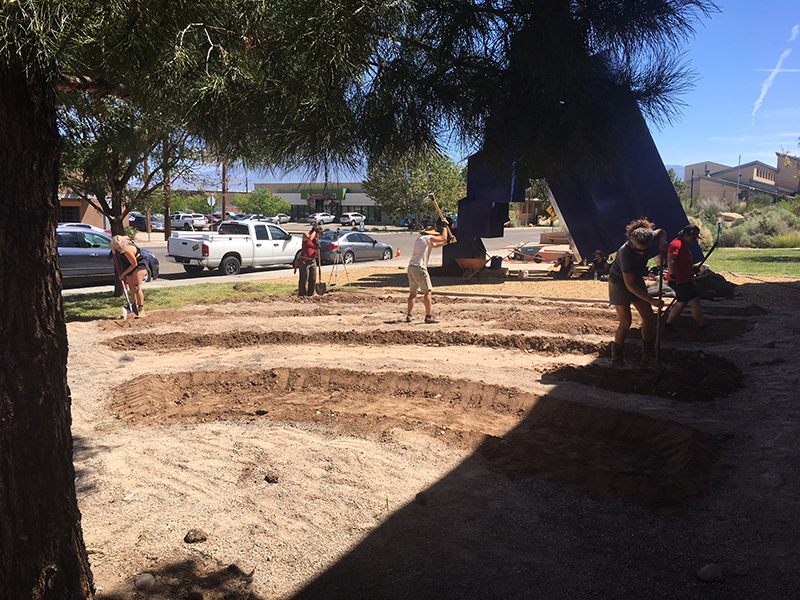 After hours of digging, pick-axing and raking, the garden beds begin to take form.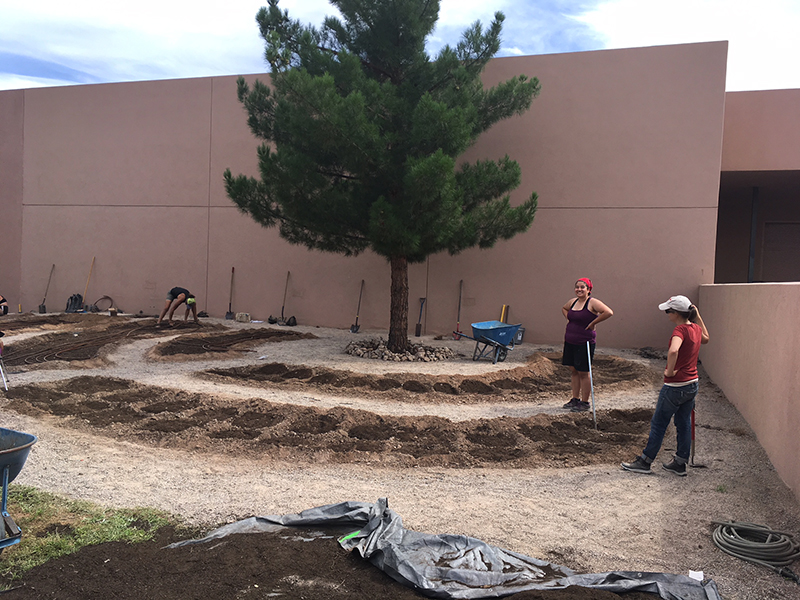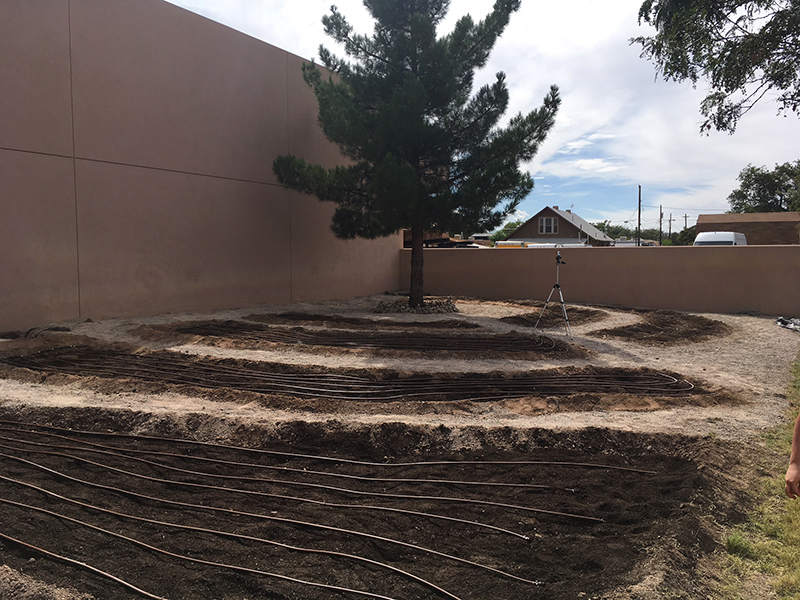 Drip irrigation is installed (foreground). In another section, dryland style waffle gardens are created, utilizing only rain water (background).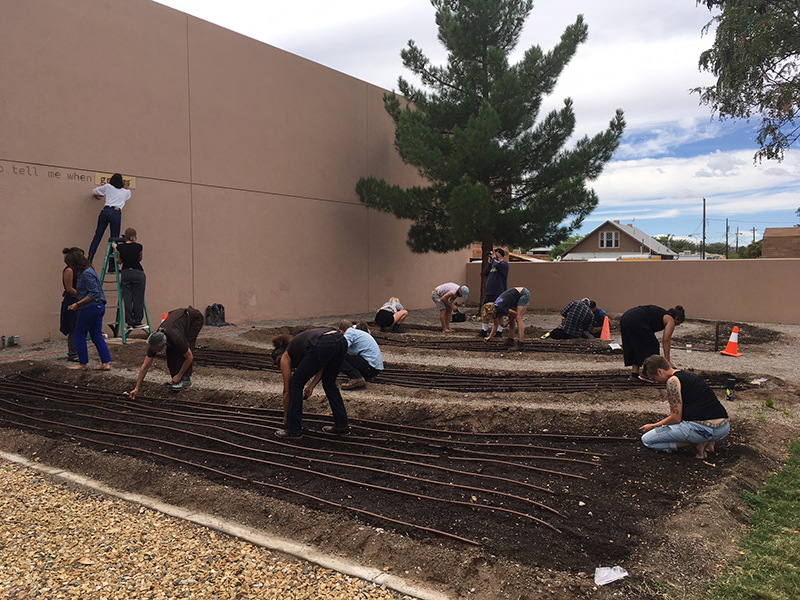 The first planting, wintercrop: Middle Eastern and SW Asian heritage grains einkorn, spelt, Sonoran Wheat, and Cache Valley Rye.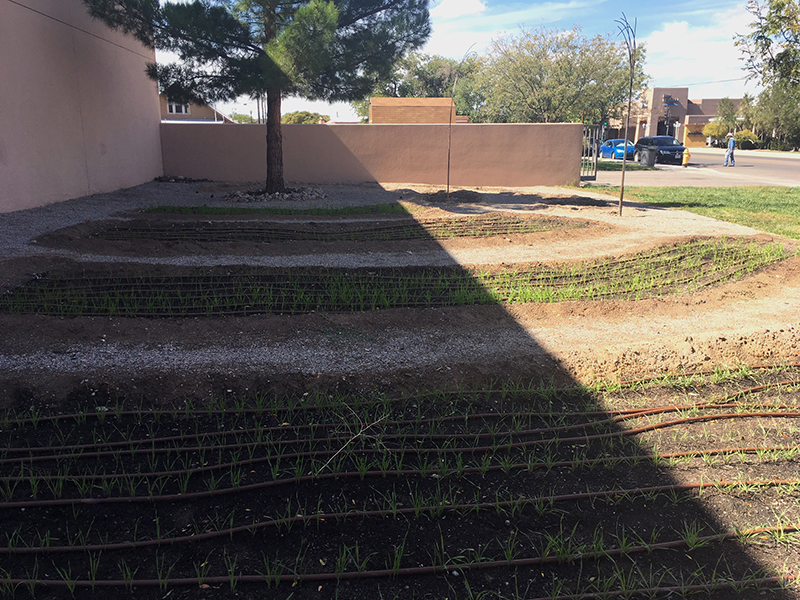 The first sprouts of the winter crop are just the beginning of a year-long project that will offer many varieties of plants.